Each month we'd like to talk you through some of the key features of the InvestNow service, and the details behind the pages in the secure website.
First-up this month is the Performance page.
The Performance page provides you with an at-a-glance historical view of the performance of your portfolio from three different perspectives.
The first column shows you the performance data for your portfolio for the prior complete month. (Note the Home and Holdings pages show you the current value of your portfolio, based upon the most up-to-date unit and forex pricing.)
In the example below, produced in May, the first column shows the data for April – this will not change until the start of June, when it will switch to the May results.
The second column provides a rolling 12-month view, starting with the prior month. In the example below, the period covers May 2016 to April 2017.
The final column shows performance since inception: that is, tracking portfolio returns from the date you first deposited money into your Transaction Account.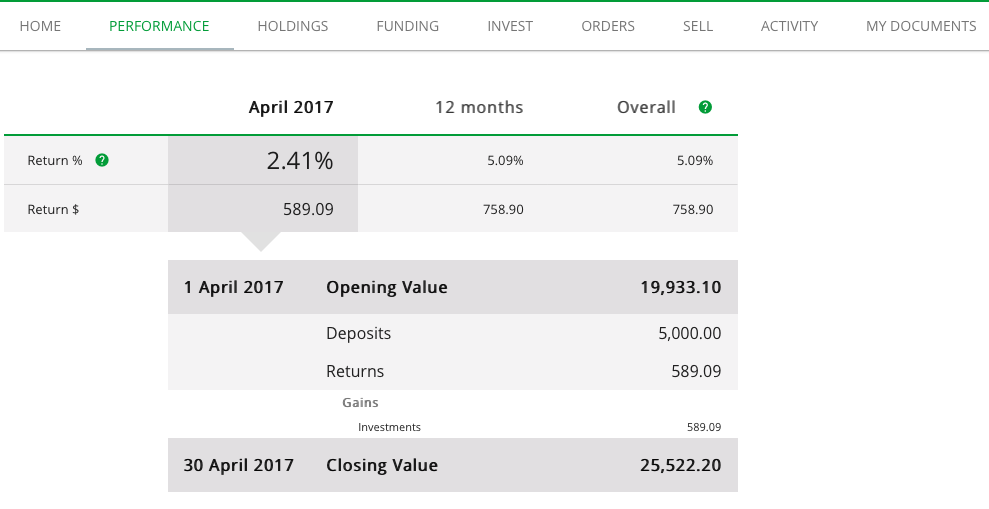 The Return percentages are an annualised internal rate of return where performance is calculated over a term of 12 months or more.
Data for the most recent complete month (April in the example above) shows the Opening and Closing Values for the portfolio, along with any Distributions and Tax Payments.
To view more detailed information for all transactions in your account, for whatever period selected, you can produce an Investor Report in the My Documents page.