As InvestNow founder, Anthony Edmonds, explained last month, mapping out your destination by working out your strategic asset allocation (SAA) is the first – and most important – step in planning an investment journey.
While an investor's SAA helps describe the route, end-point and comfort levels of the proposed trip, an investor has to ultimately choose between different investment vehicles to translate their plan into action.
"Many investors are happy enough taking the bus; others might prefer to drive a car themselves," Edmonds says. "Or for the thrill-seekers there's always a motorbike."
For example, balanced funds represent one of the most popular investment 'bus' options on the road today, he says.
As the name suggests, a typical balanced fund includes a fairly even mix of conservative and growth assets (essentially, fixed income and shares) designed for both endurance and comfort.
"Of course, while they might have the same broad specifications, not all balanced funds are built the same," Edmonds says. "There are various makes and models that use different components to achieve similar goals."
And even for those investors who'd rather drive themselves, balanced funds can offer a useful construction blueprint.
"Let's say your SAA has identified you as a balanced investor but you're not that fond of bus travel," he says. "Before you build your own vehicle it is still worth looking under the hood of a selection of balanced funds for ideas."
Edmonds says, for instance, the Russell Lifepoints Balanced Fund provides one interesting design prototype for investors to consider.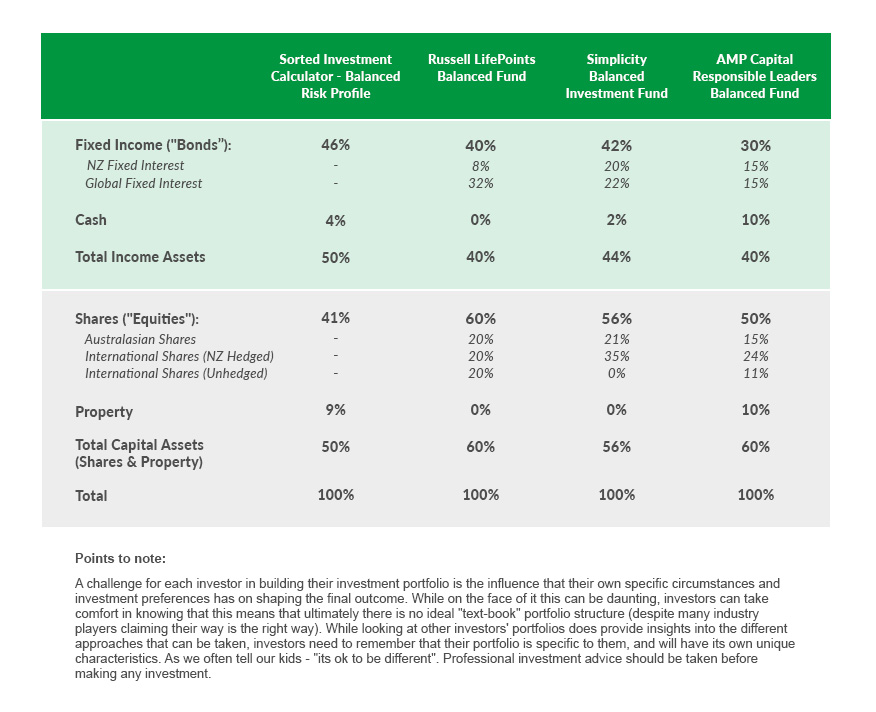 The Lifepoints Balanced Fund is actively managed by Russell Investments under its typical 'multi-manager' approach. Russell sets both the SAA and selects specialist fund managers to invest in the underlying asset classes. In the fixed income sphere, for example, Russell has appointed globally-renown firms such as PIMCO, Colchester, Insight, BlueBay and Schroders.
"InvestNow does not offer direct access to the Russell Lifepoints Balanced fund – it's only available via the Aon KiwiSaver scheme – but we do have all the components," Edmonds says. "So our clients can look up the Lifepoints SAA and actual underlying funds in product disclosure documents and replicate the strategy through our platform by buying a similar mix of the Russell global and Australasian fixed income and share funds."
Likewise, for those investors who favour passive vehicles (akin to self-driving cars, perhaps), InvestNow provides a broad mix of tools to build-your-own balanced fund model.
The Auckland-based passive investment provider, Simplicity, offers one example as a guide. As with the Russell Lifepoints product, InvestNow does not offer the Simplicity Balanced Fund per se but the parts, or very similar, are available.
"Currently, Simplicity invests in global shares through the Vanguard International Shares Select Exclusions Index Fund (Hedged) – NZD class," Edmonds says. "InvestNow provides investors access to the same Vanguard Fund – at a lower cost".
"Alternatively, our clients could choose to mirror the Simplicity international equities exposure by investing in other passive global share funds listed on InvestNow like the AMP Capital All Country Global Shares Index Fund (which is similar to Vanguard's fund, but structured as a tax-effective portfolio investment entity – or PIE), or the Smartshares Total Word Fund."
Admittedly, Simplicity invests in NZ shares through its own method but he says InvestNow offers clients true-index style local equities funds such as the range of Smartshares products, or the AMP Capital NZ Shares Index Fund.
"Regardless, InvestNow clients can easily discover how various fund providers build their balanced funds – or whatever risk profile suits their SAA, such as growth or conservative – and compare them to their own fund portfolios," Edmonds says. "Even if investors don't want to create similar versions, the comparison with professional models is a useful way to understand how your own portfolio has performed relative to a SAA."
He says there is no single perfect investment vehicle for every situation. Investors will build fund portfolios based on their own personal situation – reflected in their SAA – as well as their own beliefs about the relative merits of passive and active management or other factors such as responsible investment (RI).
"As an aside, InvestNow does include several RI funds to cater to the growing demand in that area – including products from Mint Asset Management, AMP Capital and Pathfinder," Edmonds says.
But whether investors favour RI filters, passive funds, or active funds in their portfolio vehicles, the choice – while important – remains secondary to the route-setting SAA.
"Investors do need to think carefully about what vehicle suits their purposes – you wouldn't want to be riding a bike in heavy rain while carrying lots of luggage," he says. "Each investment vehicle will have its own unique characteristics and offer a different ride but – under normal travel conditions – all options should eventually get you to your SAA destination."
Edmonds reiterates that academic studies highlight it is an investor's SAA which will be the main determinant driving their return.  He says: "While choosing between different investment vehicles is interesting, and the cause of lots debate between passionate investors with different preferences, ultimately your SAA is the thing that will drive the majority of your return".
InvestNow enables clients to build portfolios that match their own Strategic Asset Allocation, and select between a wide range of investment funds covering active, passive and socially responsible investment styles.