2nd September 2017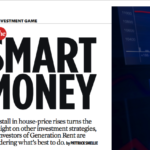 We featured in Patrick Smellie's "The Smart Money", in the recent edition of the Listener.
Written by Sophie Boot, she focussed on "a new class of online platforms, giving mum-and-dad investors, student investors or young professionals with a spare bit of cash more options than ever to invest their money themselves".
Click the thumbnail to download the full article as a pdf.